What Makes AdvantaClean Franchise A Recession-Resistant Business?
If you're a homeowner, you probably know that disaster can strike at any moment. One day you're taking a shower, and the next you're on the phone with a company to clean up the flooding in your house. This happens to 14,000 homeowners every day in the United States, according to Water Defense, so if you're entrepreneurial and have the desire to help others, that alone should get you excited about the opportunities that the $210 billion restoration industry has in store for you.
Leading Water And Mold-Damage Remediation Franchise Is Far Different Than Traditional Restoration Businesses
While the restoration industry is booming, not all restoration brands are equal. AdvantaClean is vastly different from traditional restoration brands, and those differences are what has made us so successful over the past 24 years. AdvantaClean's business model is designed to be recession-resistant — specializing in services home and property owners will always need to address, water damage, mold damage, indoor air-quality issues, and more. And our franchisees don't have to wait for disaster to strike to go to work.
Traditional restoration brands rely on disasters, which is why some have developed a negative reputation as "storm chasers." AdvantaClean has earned the opposite reputation as trustworthy by focusing on scheduled services that the home or property owner books in advance. Our franchise owners then perform those services with expertise and exceptional customer service. This provides our franchise owners with a consistent revenue stream that has tremendous profit potential.
"After more than 20 years in business, the only time that I've seen franchisees fail to thrive in this business is if they don't show up to work," says Jeff Dudan, former CEO and founder of AdvantaClean. "AdvantaClean is always going to be relevant because the issues of water damage, mold, radon, and poor indoor air quality are going to be with us forever.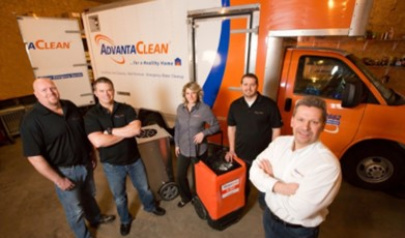 "Our homes are our biggest investment, and when an issue occurs, homeowners need a brand they can trust to ensure that the job gets done correctly. We're very proud that our average ranking on Google Review is 4.92, which is unprecedented for this industry. We've done tens of thousands of jobs, and customers continue to look to us as the industry-leading brand because we listen, we empathize, and we provide exceptional service. There's no question that as more entrepreneurs learn how effective they can be in this business, that AdvantaClean will experience rapid growth for years to come."
How Does Our Exceptional Support Increase The Earning Potential Of Your Advantaclean Franchise?
Because the success of the AdvantaClean business model is predicated on scheduled services, our executive decided to make a significant investment in a 24/7 call center to not only help franchisees book and manage appointments but also to help our franchisees win business. Our call center team manages every customer interaction — from the initial request for services all the way to the follow-up call ensuring that the customer is satisfied with completed work. The success of our call center team is undeniable; last year, our call center added 25,000 booked appointments on behalf of our franchisees all across the country.
"We're very focused on ensuring that our franchisees are profitable," says Matt Phillips, President of AdvantaClean. "We're very careful about advising our franchisees about exactly what to do. Our 90-Day Success Plan focuses on how to operate a business successfully, and this primarily focuses on how to manage cash flow, how to create a business plan, and how to set goals that the franchisee is accountable for. We have a whole team in place, from our coaches in the field to our home office, that is there to help franchisees become profitable and win business as quickly as possible."
As Phillips explains, our support doesn't stop with our call center. Click here to read how our industry-leading support platform will help your business thrive and prosper over the long term.
Call (877) 800-2382 today or request more information and learn more about franchise ownership with an industry-leading restoration franchise. One of our franchise licensing advisors will be happy to answer any questions you have and assist you with evaluating whether franchise ownership is right for you.