Necessary Equipment & Products for Mold Remediation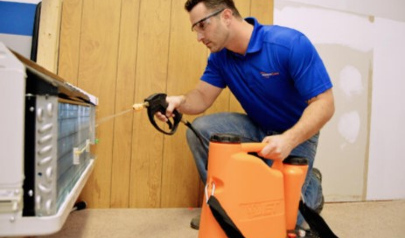 Whether it's a lemonade stand or a multi-billion dollar corporation, every business needs tools to succeed. In the mold remediation business, you're looking for equipment that will help you discover growth without having to knock down drywall or tunnel into crawl spaces. The technology of the day has improved considerably for newcomers, but it's not just a matter of opening up a catalog and choosing a one-size-fits-all package.
Narrowing It Down
The success of your mold remediation business is built upon your knowledge of the industry. Part of your prep work is buying the equipment and products that will mark you as a professional in the eyes of your clients. The equipment needed will depend on the scope and the specialty of your business.
You'll have to sift through and evaluate multiple products on the market. Just because a machine is new and improved doesn't mean it's right for your company. For example, if you live in an area with narrow buildings, you'll need an extraction unit that gives you the flexibility to move in and out of tight spaces without damaging the property. Your training classes will certainly give you helpful advice and tips, but the final decision is left to you.
Mold remediation equipment typically consists of the following:
Extraction unit: Likely the most important equipment you'll buy, this professional-grade machinery will remove problematic moisture from the building. Most owners choose the mounted version because it provides the lift and suction power needed to remove mold.
Thermo-hygrometer: A moisture meter will tell you where moisture is, so you can determine if the conditions are right for mold to form. A thermo-hygrometer takes this concept one step further, giving you temperature readings and additional data so you can make more accurate predictions.
Service van: Your van serves as advertising as much as transportation. It should be large enough to carry your staff and all of their accompanying machinery, so you never have to make more than one trip. It should also have friendly colors on the side and an easy-to-read name and number for potential clients to call if they're in need of your services.
Buying the right equipment is a great starting point for a mold remediation business. It can be a huge asset in determining when a building is in critical need of mold removal. However, equipment is not a substitute for industry knowledge. Mold typically begins at about 20% moisture, but some species can survive and even thrive with a lower moisture count. It's the technician's job to do additional research before declaring the safety of an area.
Mold Remediation Products
Ventilation is one of the biggest challenges for anyone in mold removal. In fact, even tiny infestations can be risky for DIY removal simply because the space is too confined. Between the cleaning chemicals and the actual mold, there's a lot of danger in the tight spaces where mold makes its home.
Gloves, masks, and other protective equipment make it possible for you and your staff to enter dangerous areas. Purchasing effective and durable products can give you a competitive edge while ensuring your crew is as safe as possible on the job.
Workers' compensation claims for mold removal can be devastating for a business. Having the right mold remediation products greatly reduces the chances of unnecessary accidents or injuries, which in turn, reduces the chances of a liability claim being filed against you. You can be confident you're meeting your responsibilities (as well as OSHA standards) if you don't skimp on your equipment.
Helpful Tips
Your clients are as concerned about saving money as they are with saving time. This is especially true for commercial property owners. An apartment complex owner doesn't have hours to waste if an inspector can't remove the mold out the first time around.
Having the right equipment and products is a good way to set yourself apart from the rest of the companies in your area. You may charge a little more for your services, but the client won't have to worry about the quality of the job once you leave.
The right equipment is an investment in your future. Property owners will soon find that their attempts to remove mold may not be worth the time, money, and effort they invest in the project. It may even be dangerous to their overall respiratory health. When you have the right equipment, you can market your efficiency to customers and give them plenty of reasons why they need to choose a professional over a DIY job.
Call (877) 800-2382 today or request more information and learn more about franchise ownership with an industry-leading restoration franchise. One of our franchise licensing advisors will be happy to answer any questions you have and assist you with evaluating whether franchise ownership is right for you.