AdvantaClean Franchise Review: Meet Russ Harlow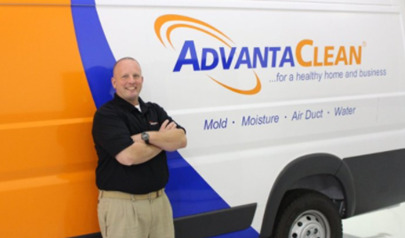 There's one key difference between entrepreneurs and everyone else: entrepreneurs don't just dream about quitting their 9-to-5 job, they take action. Going into business for yourself means having the freedom to own a business that you're passionate about to build a brighter future. Entrepreneurs are attracted to the AdvantaClean franchise because our business model is proven to help entrepreneurs realize their dreams, while also allowing for a life that is meaningful, serves others, and can provide personal and financial rewards.
HOW AN ENTREPRENEUR DITCHED THE 9-TO-5 LIFESTYLE FOR A MEANINGFUL LIFE WITH THE ADVANTACLEAN FRANCHISE
The majority of AdvantaClean franchisees join us without any experience in the restoration industry. AdvantaClean offers industry-leading support and ongoing coaching to help your business ramp up quickly and thrive over the long term. This level of support, unique to the industry, is part of the core values that guide AdvantaClean. It unites our franchisees to deliver the best service to their customers and become meaningful members of their communities.
For Russ Harlow, owner of the AdvantaClean franchise in Windham, Connecticut, going into business for himself has allowed him to model the value of hard work to his three children and has given him a chance to rise to his full potential as a leader in his community.
This is his story:
WHAT DID YOU DO BEFORE YOU BECAME AN ADVANTACLEAN FRANCHISEE?
Harlow: I did a lot of different things; I have an eclectic background. I worked a lot of jobs that felt like a means to an end. Owning an AdvantaClean franchise is the first time I've felt like I'm doing something meaningful since college.
WHAT MADE YOU SIGN ON THE DOTTED LINE TO BECOME AN ADVANTACLEAN FRANCHISEE?
Harlow: It's a great business model. It's a great company with a proven history. It was really the culture that spoke out to me — from Jeff Dudan, the CEO, to each and every franchisee, there's a culture of integrity, caring and customer first. There also is a level of professionalism that is unlike anything I've ever seen.
HOW IS THE SUPPORT THAT ADVANTACLEAN PROVIDES?
Harlow: The support is fantastic because it's ongoing. You're always trying to grow your business, and there's always more to learn. The home office helps me immensely — they walked me through my first job. I must have made 17 phone calls, and they held my hand through the whole experience.
The support from the franchise owners is phenomenal, too. Any time I have a question, an experienced owner will pipe up early and often to help me with a great, knowledgeable response. I'll give you an example: I'm hiring my first employee, and I'm needing a new orientation model, a packet that will help me explain how we do things. A franchise owner emailed right away with a few different options, including one he had paid to be developed by a professional employment agency. There was no fanfare, and more importantly, he said, "Call me. I can help you through any of the problems I faced when I was just starting out." That's just one example, but it speaks to the sense of camaraderie and level of support owners provide to each other.
HOW DOES THE CALL CENTER HELP YOU IN YOUR BUSINESS?
Harlow: The call center is fantastic. It allows me to concentrate on the business at hand because I know there is a professional person answering the phone 24 hours a day to vet clients and get appointments booked on my behalf. If I need an appointment changed, I can call them, and they are very responsive to my needs as an individual owner.
WHAT ARE YOUR GOALS FOR THE FUTURE OF YOUR BUSINESS?
Harlow: Everyone has different goals, and those goals change. My kids are 10, 12, and 14, and so in 10 years, they will all be in their early 20s. I hope that they will have an opportunity to take over this business. As for now, I'm focusing on building a better and bigger business.
WHY WOULD YOU RECOMMEND ADVANTACLEAN TO AN ENTREPRENEUR?
Harlow: There are a rhyme and reason for everything we do. The executive team really cares about your success, and they are always working to help you become more successful. The initial investment is very reasonable, and the potential to do well is enormous.
Call (877) 800-2382 today or request more information and learn more about franchise ownership with an industry-leading restoration franchise. One of our franchise licensing advisors will be happy to answer any questions you have and assist you with evaluating whether franchise ownership is right for you.