AdvantaClean Announces Owner of Newest Franchise Location in Windham, CT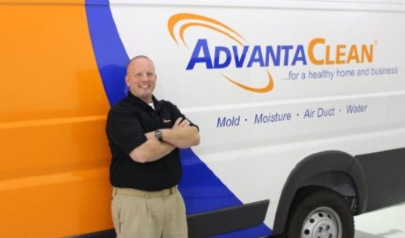 AdvantaClean, the nation's fastest-growing, residential and commercial light environmental services expert, has named Russ Harlow Jr. as its newest franchise owner. Harlow's franchise will be known as AdvantaClean of Windham, serving communities in eastern Connecticut — including Mansfield, Norwich, and Putnam. The official opening is scheduled for January 8.
RUSS HARLOW JR. WILL OFFICIALLY OPEN HIS LIGHT ENVIRONMENTAL SERVICES™ ON JANUARY 8
"I am very excited to bring the AdvantaClean brand to Windham and the surrounding area of my home state," said Harlow. "There is no other business like this here, with such an outstanding reputation as an industry leader and innovator in helping create a cleaner, healthier, and more efficient home and business environments."
"Russ is an outstanding business professional and a local resident with lifelong ties to his community," said Jeff Dudan, CEO/founder of AdvantaClean. "He not only has a great grasp of our industry and an exemplary work ethic, but he also embraces AdvantaClean's CORE values: Community, Accountability, Respect, Excellence, and Service. Russ and his team will provide tremendous benefits to the entire eastern region of Connecticut."
AdvantaClean has been in business since 1994 and has become the nation's fastest-growing light environmental services company by focusing on moisture control, emergency water removal, mold remediation, and radon testing and remediation, as well as HVAC cleaning. These five services comprise a singular package of emergency and scheduled services not offered by other restoration franchise companies, to preserve and restore homes and businesses.
Harlow, the married father of three children, has a background in the service industry, but he has long harbored an entrepreneurial spirit.
"As a child during the 'Pet Rock' craze, I would hunt for unusual rocks, paint them, then sell them to neighbors and friends. Later, I delivered newspapers seven days a week, while also working as a painter for my father's business. Hard work is its own reward, I believe."
"It has been my life-long dream to own my own business. Now, I not only have the opportunity to do so, but I am also providing my neighbors with the education and protection they need regarding indoor environmental hazards."
Call (877) 800-2382 today or request more information and learn more about franchise ownership with an industry-leading restoration franchise. One of our franchise licensing advisors will be happy to answer any questions you have and assist you with evaluating whether franchise ownership is right for you.