Entrepreneuer® Magazine Named ADvantaClean as a Top Franchise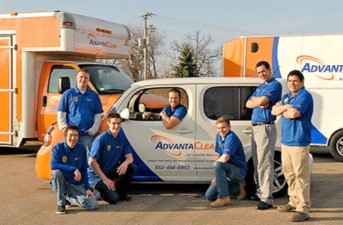 AdvantaClean kicked off the year on a high note, with a high ranking on Entrepreneur magazine's prestigious annual "Franchise 500" list. In May, the publication continued to lavish praise on AdvantaClean by naming us as the top franchise opportunity in our category on their annual list titled "Simply the Best: The Top Franchises in 110 Categories."
LEADING ALTERNATIVE TO TRADITIONAL RESTORATION FRANCHISES NAMED AS THE BEST FRANCHISE OPPORTUNITY IN CATEGORY
Compiled out of the extensive data used to determine the "Franchise 500" list, "Simply the Best" provides entrepreneurs with the chance to review franchise opportunities that are "at the peak of their industry."
"With more than 1,000 companies applying for the 2018 Entrepreneur Franchise 500, just getting on our list was an achievement," the publication states. "But some companies rose even higher above the rest, claiming the highest ranking in their category. The 2018 Franchise 500 rankings, from which this list is derived, are determined by an evaluation of more than 150 data points in the areas of costs and fees, size and growth, franchisee support, brand strength and financial strength and stability."
AdvantaClean's success over 23 years in our 230 locations across the country is the result of our radically different approach to franchising: we help our franchisees grow their businesses by helping them win and retain new customers, and by keeping the ongoing costs of running a successful business low. AdvantaClean makes being No. 1 look easy — our proven business model clearly differentiates us as a prime alternative to the hyper-competitive restoration industry by focusing on light environmental services. These services help home and property owners enjoy healthy spaces.
"We're incredibly honored to be named as the best franchise opportunity in our category by Entrepreneur magazine," says Jeff Dudan, former CEO of AdvantaClean. "In more than two decades in business, AdvantaClean has helped dozens of entrepreneurs realize their dreams of running a successful business that is profitable and makes a difference. Our support infrastructure is second-to-none: we help our franchisees generate sales, manage their customer interactions, manage their marketing efforts, and obtain the education and coaching they need to become successful over the long term. As a result, our culture is one of the most supportive and inclusive in the entire franchise industry, and our franchisees are proud to represent AdvantaClean in their communities."
Alongside the extensive and ongoing support that AdvantaClean provides to its rapidly growing franchise network, AdvantaClean also offers something rare in the business world: a recession-resistant business model.
"AdvantaClean is a recession-resistant business in an enormous market," Dudan says. "AdvantaClean is a much more predictable business model than other restoration businesses because we aren't chasing storms and insurance payments. The services that we provide are scheduled, meaning our franchisees know more about how much they will be earning week to week. We specialize in helping homeowners find permanent solutions to water damage, mold growth, indoor air quality issues, and more, and our level of services carves out a nice niche for our franchisees to differentiate themselves in their markets.
Call (877) 800-2382 today or request more information and learn more about franchise ownership with an industry-leading restoration franchise. One of our franchise licensing advisors will be happy to answer any questions you have and assist you with evaluating whether franchise ownership is right for you.